Signature of a MoU with Mr Emomalii Ramon the president of Tajikistan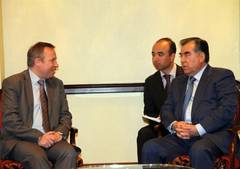 9 April 2013: Signature of a Memorandum of Understanding with the president of Republic of Tajikistan Mr Emomalii Ramon.
Article from KHOVAR, the National Information Agency of Tajikistan:
Meeting with the President of Healthcare Foundation of Belgium Dirk Lambrechts

Today, in Brussels, the President of the Republic of Tajikistan Emomali Rahmon received the President of Healthcare Foundation of Belgium Dirk Lambrechts.
The issues of cooperation of Tajikistan with this foundation, which is the joint state and private organization, were reviewed at the meeting.
It was expressed interest in the enhancement of cooperation in treatment of different diseases, preparation of personnel, exchange of specialists and expertise, technical support of health institutions of Tajikistan.
Following the meeting a Memorandum of Understanding on cooperation in the area of public and private healthcare was signed between the Republic of Tajikistan and the Healthcare Foundation of Belgium.
It was signed on behalf of Tajikistan by the Chairman of State Committee on Investments and State Property Management Davlatali Saidov and on behalf of Belgian side by the President of the mentioned Foundation Dirk Lambrechts.
It was noted that further Programme of Cooperation of Tajikistan and Belgium in the healthcare sphere will be developed and implemented on the basis of this document.
http://khovar.tj/eng/foreign-policy/3802-meeting-with-the-president-of-healthcare-foundation-of-belgium-dirk-lambrechts.html
---