Visit Minister Jo Van Deurzen, Flemish Minister for Welfare, Public Health and Family and Professor Otari Khurtsilava, rector MAPO University St-Petersburg Russia
Exchange innovative best medical practices between Russia and Belgium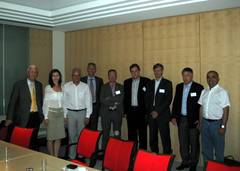 On July 13th 2010, Healthcare Belgium had the honour to welcome His Excellency Minister Jo Van Deurzen, Flemish minister for Welfare, Public Health and Family, at the occasion of the visit of Rector Otari Khurtsilava, rector of the MAPO University of Sint-Petersburg, Russia.
Many innovative medical best practices were presented by both industrial and academic Belgian key players in different medical domains (Ion Beam Applications-particle technology, BRG-Radiomatix-teleradiology, Brussels University Hospital, radiology, Antwerp University Hospital, tinnitus).
The exchange of experiences in several medical fields may lead to enhanced collaboration between medical communities in Russia and Belgium thus building long lasting bonds of exchange and friendship!
---