Brussels July 24th 2009: Agreement between one of Belgium's top hospitals, Universitair Ziekenhuis Brussel (UZ Brussel), and Royale Hayat Hospital (RHH) of Kuwait signed.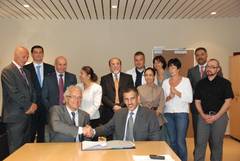 Kuwait's Royale Hayat Hospital to be training centre for IVF treatment in Mideast
One of Belgium's top hospitals, Universitair Ziekenhuis Brussel (UZ Brussel), and Royale Hayat Hospital (RHH) of Kuwait signed an agreement here Friday to open a fertility clinic in Kuwait which will also serve as an education centre for in vitro fertilisation, or IVF, in the Middle East.
Professor Dr. Paul Devroy, director of Centre for Reproductive Medicine (CRM) in UZ Brussels, said that the fertility clinic in the RHH Kuwait has been chosen as an education centre for the region of the Middle East.
"This is an extremely important project and achievement will be tremendous in the coming years," said Devroy who has won several international awards for his work. He was speaking after the signing ceremony.
Professor Dr. Ben Van Camp, Chairman Board of Governor of UZ Brussel, told KUNA that under the agreement CRM will have a location in Kuwait so that people can be treated locally.
UZ Brussel will shortly be sending a three-member team of specialists to educate and train the personnel and set up the centre in RHH Kuwait.
CRM has been active within the Univeristy Hospital Brussel since 1983. As a specialized centre in reproductive health care, it has performed groundbreaking work in the development of reproductive techniques and their application.
It has developed several techniques for couples who are having difficulties in having children, said Ben Van Camp.
"Specific techniques which were developed here are now being used everywhere," he said.
He noted that about 70 percent of the patients, including about 100 from Kuwait, come from abroad every year for treatment in the CRM of UZ Brussel.
Kuwait will be first kind of centre that UZ Brussel is opening in the world. "This is a very important agreement," underlined Ben Van Camp.
Ahmad Adul Aziz Al-Ghannam, chairman of the board of RHH , said the aim of the agreement is to expand the IVF treatment inside Kuwait in a very international way.
"What we have seen here today in UZ Brussels is very, very impressive," Al-Ghannam told KUNA after signing the agreement on behalf of his hospital.
"We have searched all over the world but finally finalised it with UZ Brussel," said Al-Ghannam who was accompanied by Pradeep Handa, chairman, and Danah Al Mulla Vice chairperson of RHH.
He noted that Kuwait sends around 2,000 patients for IVF for treatment abroad every year. RHH is the first private hospital in Kuwait with an exclusive focus on services for women.
"We are very happy over this agreement. Now we are looking to move forward, " he said.
Kuwait's ambassador to Belgium, Nabeela Al-Mulla and embassy Counsellor Bassam Al-Gabandi also attended the signing ceremony.
Speaking to KUNA, Al-Mulla expressed her satisfaction over the agreement and hoped that it will open greater scope for researches in Kuwait.
"This fertility centre will be a beacon in the Middle East," stressed Al-Mulla.
Dr. Marc Noppen, CEO of UZ Brussel, who signed the agreement, said their fertility centre is "among the top three in the world and in some domains number one." "Many techniques for IVF were invented here," he noted.
"We have a lot of Kuwaitis who come for treatment here. We thought it was a good concept if we export the know-how and the people to Kuwait, instead of the Kuwaitis coming here. It was very well received in Kuwait and so we have established an agreement in Kuwait," he told KUNA.
"This is the first time that a foreign hospital will actively develop a fertility programme in the region, in Kuwait. If this is successful then I am pretty sure that other hospitals in the GCC will take part in a network of the standards that we have developed," he said.
Qaisar Hijazin, Secretary General of the Arab-Belgium-Luxemburg Chamber of Commerce, recalled that the chamber organised an economic and commercial mission to Kuwait in March in which a delegation from the UZ Brussel also participated and visited a number of hospitals including the RHH.
"I am very happy that the signature of this agreement today is the fruit of our efforts," Hijazin told KUNA.
"Choosing Kuwait for us is very significant as Kuwait is a model for education, democracy and social development in the area. We want to see more and more exchange visits of medical students and doctors between Kuwait and Belgium," he added.
Source: By Nawab Khan, Kuwait News Agency (KUNA); www.kuna.net.kw/newsagenciespublicsite/ArticleDetails.aspx?id=2016126&Language=en
---